Treasure Seekers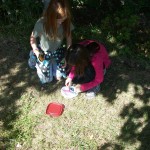 Knowing that traditional physical education activities do not deeply engage all students, physical education and health instructor Jon Woodcock had been searching for creative programs that could spark children's interest and help develop healthy habits for a lifetime. In Spring 2009 he found what he was looking for. This was the start of the geocaching program at Mildred L. Day School in Arundel.
What is geocaching? Think hide-and-seek plus buried treasure. Benevolent hiders reveal the precise longitude and latitude of their hidden treasure—the geocache. Seekers navigate using a hand-held global positioning system (GPS) unit and by deciphering and following clues. There may be a series of several puzzles to solve and new clues to reveal before reaching the final goal. The geocache itself is typically a small metal or plastic container bearing small treasures or trinkets and a logbook. Finders are expected to record information or stories about their adventure in the logbook and leave the geocache for the enjoyment of future geocachers.
Using funds from EFKA, Woodcock purchased eight handheld GPS units. He also hid eight geocaches in the back field located behind Mildred L. Day School. To prepare for their outdoor search experience, students learned how to operate the GPS units and how to navigate using the latitude-longitude coordinate system. They also had lessons on respect for nature and the places they would be visiting and on the geocaching ethic of replacing the cache as found so others can have the same experience.
In June 2010 students went on their first GPS-guided treasure hunt. Groups of 3 students tracked together—communicating with each other about terrain and obstacles, interpreting the geographical coordinates, offering visual clues, and operating the GPS unit.
Students were immediately engaged and excited: "This is so cool, I can't wait to try this with my family." "I never knew there were hidden treasures so close to where I live." In addition to a high-level of engagement, educational benefits of the program include physical activity, teamwork, problem-solving, responsibility, becoming comfortable with the outdoors and with going to unfamiliar places. According to Woodcock, the program also demonstrates to students that a technology that may seem useful only to adults can also be relevant and useful in their own lives.
Currently 120 students in grades 3–5 are involved in the geocaching program. Woodcock plans on bringing geocaching to students at Consolidated School in the future.
The feedback from some students is simply how "cool" it is. Other students have gone so far as to introduce the activity to their family. "I'm going to have my mom download the geocaching app to her phone so we can go geocaching." Like so much in life, the treasure hunt is more about the journey than the destination. Geocaching is a 21st century tool that is helping students build the technological and social skills to navigate successfully through life.