MSK Seventh Graders Explore Their Potential at Camp Kieve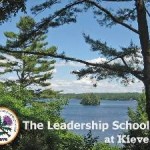 he Leadership School at Camp Kieve has high expectations of every camper that bunks there: teamwork, kindness, and respect.  In October, seventh-graders from the Middle School of the Kennebunks were asked to explore those values on a personal and group level during a week-long stint that began at MSK and ended at Camp Kieve.
Camp Kieve, sited on Damariscotta Lake, is a place where counselors work with children and adults on social and physical growth to increase self-confidence, healthy decision-making, teambuilding, and communication.  Students focus on those areas through discussion in a cabin style classroom, via physical game playing, or by scrambling on a high ropes course.
Science teacher Lindsey Hansen said the lessons paid off.  "We saw amazing changes from day one to the end of the week," she said.  "At the beginning of the week everyone was very competitive. By the end, it was not about winning, it was about helping others succeed."
"We grew as a class in courage and in other areas like respect," said camper Victoria.  "We were interrupting each other earlier in the week, not listening.  We told our counselor we wanted to work on listening skills and by the end of the week we did a better job."
"We reviewed bullying, harassment, and other kinds of unwanted school setting behaviors of which even our district suffers from," said Ryzen, who said he thinks other grades in RSU21 could benefit from lessons learned at Camp Kieve, and he hopes other students will be able to go in the future.
Reaching new heights on a more personal level was evident too.  Several seventh-graders who had a terrific fear of heights stepped outside of their comfort zones on the high ropes course.  While safely harnessed they managed to climb up a 50-foot telephone pole, teeter at the top, leap for a trapeze bar, then be lowered to the ground.
"When I got to the top, it was hard to stand," said Amy.  "When I did, I was so proud of myself I didn't care if I didn't make the jump to the bar . . . I am very proud of this . . . I will never forget all that I have accomplished at Camp Kieve."
Camp Kieve director Henry Kennedy and his staff hope each student takes at least one thing they learned at Camp Kieve and uses it to make a difference in his/her community.  "What kind of difference can we make in 3 to 4 days?" Kennedy said. "It's a catalyst for change."   It's also hoped the lessons learned at Kieve remain in place at school, too, to bolster the International Baccalaureate values that students work on all year long with their team leaders and instructors.
"At Kieve, my classmates and I learned things to help us become better people," said Marshall.  "We learned how to trust each other, how to confront bad situations in an assertive way to help solve the problem without making anyone angry, and that we make our life by our own decisions."
Parents paid a $100 fee for their child to attend the camp. The Education Foundation of the Kennebunks and Arundel provided a ten thousand dollar grant and secured another ten thousand dollar grant to pay for the remainder of the students' camp costs.