Our Mission
The mission of the Education Foundation of the Kennebunks and Arundel is to work with the schools of RSU 21 to inspire and ignite young minds by funding creative and innovative programs for students and professional development for teachers and other staff. Read more . . .
What's New?
July 31, 2017
Ready for some golf? The EFKA annual GOLF Tournament will be held at Webhannet Golf Club on Monday, September 11, 2017 at noon.On-line registration is here. To print and mail in your registration, click here. We have numerous sponsorship opportunities available! Thank you for your continued support. Any questions, please email us at info@educationfoundationka.org.
February 9, 2017
Help support the EFKA every time you shop on Amazon. Go smile.amazon.com and a .5% of your order will go directly to the EFKA! Thanks for your support.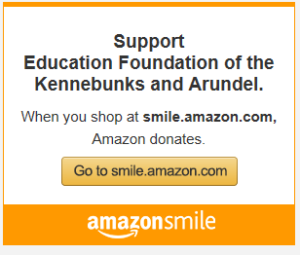 November 1, 2016
Interested in learning more about what the EFKA has accomplished over the past school year? Our Annual Review  has all the details!