Our Mission
The mission of the Education Foundation of the Kennebunks and Arundel is to work with the schools of RSU 21 to inspire and ignite young minds by funding creative and innovative programs for students and professional development for teachers and other staff. Read more . . .
What's New?
May 23, 2017
Save the date for Spark! An evening in honor of Ted Damon and the EFKA at Vinegar Hill on Tuesday, July 25, 2017 from 5:30-7:30 pm. More info to come.
May 16, 2017
Save the date! The EFKA annual GOLF Tournament will be held at Webhannet Golf Club on Monday, September 11, 2017 at noon. More information to follow soon.
May 8, 2017
Congratulations to Kristi,  our lucky St. John raffle winner! We were able to pull the winning ticket at Catch the Wave, and the excitement was palpable. Thank you to everyone who purchased a chance to visit St. John; we wish Kristi all the best in her adventure!
February 9, 2017
Help support the EFKA every time you shop on Amazon. Go smile.amazon.com and a .5% of your order will go directly to the EFKA! Thanks for your support.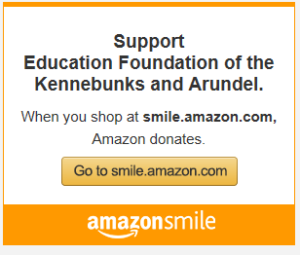 November 1, 2016
Interested in learning more about what the EFKA has accomplished over the past school year? Our Annual Review  has all the details!